WHERE IS LIFE CALLING YOU?
Community is at the very heart of the life of the Brothers. Brothers live together as a family trying to follow the example of Jesus. Whether it is through our schools and local ministries or overseas through our many international mission projects, Brothers learn to understand the joy and promise of a life of service through sharing, friendship, teamwork, and prayer. True brotherhood in community doesn't just happen - every member has to work at it and do so in a way that is supportive of others.



Embark on a life journey to
minister to young people,
especially those who are
poor and without hope.
Learn about how we have
continued to serve others in our
missions abroad and the impact
it has had on the lives of others.
Be the next generation of
Brothers of the Sacred Heart.
Enjoy an adventure of service in a
supportive community fueled by prayer.

The Live-In Discernment Program is a vocational discernment program designed for men who are seriously considering a call to religious life, while continuing their educational course of studies or professional careers. Men move into one of the Brothers' communities to further experience and understand their life of prayer, community, and ministry, while continuing with college, graduate school or work.

The Brothers of the Sacred Heart Volunteer Discernment Program is for young men who are seriously discerning a call to religious life, while serving young people in need. Our program offers volunteers the opportunity to live and to participate in the community life, prayer and mission of the Brothers of the Sacred Heart while discerning their call in life. Contact us today to learn more how to participate.

OPPORTUNITIES TO DISCOVER & SERVE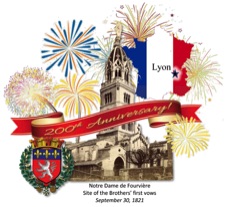 CELEBRATING 200 YEARS OF SERVICE
This year is a special occasion for the Brothers of the Sacred Heart as we celebrate our Bicentennial. It's a special opportunity for our long time supporters to participate in the celebration with us by enjoying the spirit, flavor and rich history of our mission dating back to its early beginings in Lyon, France.